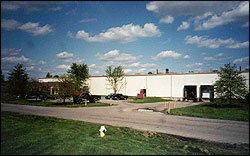 Advance Insulation Concepts, Inc. began manufacturing and selling ISOWALL® Brand Insulating Panels in March 1977. We are members of a worldwide group of manufacturers who use continuous line panel laminating technology and market stressed skin sandwich panels under the trademark, ISOWALL®. Through the years we have continued to improve the product by developing Tongue and Groove Edge Treatment (TAGET), online core sizing, and high strength, thermally efficient connection systems. ISOWALL® users enjoy the benefits of the most up-to-date technology and the comfort of knowing that our basic lamination technology has been used successfully for more than 30 years.

We introduced REGENT® Brand Insulating Doors in 1984. Our purpose was to provide a line of cold storage doors which insulate effectively, seal tightly, and operate easily. REGENT® Single Horizontal Sliding Doors and Bi-Parting Doors are well known for their ability to seal and for their ease of operation. With the addition of our microprocessor controlled Flex Drive Electric Operator, REGENT® horizontal doors are truly "high speed." They are capable of averaging 40 inches per second and achieve a top speed of more than 60 inches per second. The REGENT® line also includes Single Vertical Sliding Doors, Sectional Overhead Doors, and Swing Doors.

Our most recent product introduction is INSULROCK®?? Brand Sandwich Panels. INSULROCK® panels have a core of structural mineral fiber and either metal or fiberglass reinforced polyester facings. INSULROCK® with painted galvanized steel facings has been tested by Underwriters Laboratories and a wall constructed with six inch thick panels achieved a Fire Resistance Classification of 3 Hours. A wall constructed with four inch thick panels achieved a One Hour Rating. See Design No U042 in the UL Fire Resistance Directory.